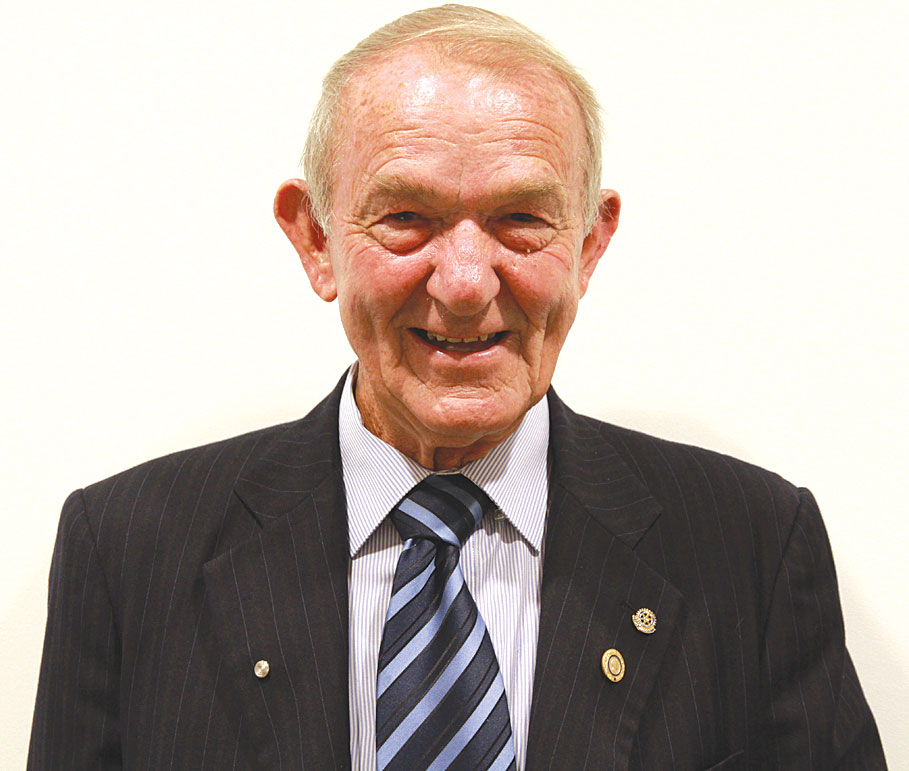 One of the Hill's Finest… Mike Blair
PHOTO: Mike with his Rotary pins on his left lapel. Photo: Hills Shire Council.
by Lorraine Clifford
There would only be a handful of Hills' residents who have contributed as much to the community as Mike Blair. His lounge room walls are filled with award photos of all types, from organisations including schools, the Hills Shire Council, sporting groups and Rotary.
The first thing that strikes you is the sheer ordinariness of Mike and I mean that in the nicest possible way! Public recognition has certainly not gone to his head. When I caught up with him recently he was dressed in his work gear but hadn't made it to work that day as he was down with a cold from the Hills Cross Country Challenge the Sunday before.
He made me a good strong cup of tea, his wife Sue was weeding out the back and their big boxer, Blossom, was slobbering on the deck as she wasn't allowed inside! Bella the cat was on a mouse mission and was nowhere to be seen.
Like all good stories, Mike started at the very beginning.
"I was born in Bristol, England, and Mum had difficulty keeping me so she put me in an orphanage when I was seven. It was supposed to be temporary but I never saw her again. The government and the Catholic Church arranged for me and thousands of other kids from all over England to be shipped out to Australia," Mike tells me with an impeccable memory for detail.
"The nuns in the Bristol orphanage asked us to put our hands up if we wanted to go on a holiday on a big ship – what seven year old would keep their hand down?" says Mike with a hint of bitterness.
Mike and the other boys from Bristol docked in Sydney in the middle of the night and caught the first train to Newcastle. They arrived at their new 'holiday' home, an orphanage run by the Daughters of Charity. Local residents called the nuns the Aeroplane Sisters' because of the distinctive wide white cornets they wore.
"There were some happy times there and I made good friends. Friends become the family you relied on. I'm not sure when I realised that I was never going back to England and my Mum," Mike muses.
Mike's next orphanage was the Westmead Boys Home managed by the Marist Brothers. He was there from the age of 11 to when he started his carpentry apprenticeship at 16.
"I loved drawing things and wanted to be an architect but you had to do a leaving certificate and my date of birth was mixed up on my birth certificate and I wasn't the right age," Mike tells me.
"I moved out of the home and shared a place with another guy with no family who was working at the same place as me."
Mike met his wife, Sue, at a dance when they were in their teens and they married in their early twenties. They lived in Auburn, in some old stables at Rosehill, Northmead, and then built the house in Baulkham Hills that they are in today.
"It was good at Rosehill, it was misty in the mornings across the whole racecourse and we used to hear the clop of the horses' hooves as they were taken out for their morning ride," Mike says fondly.
They went on to have three daughters, Nicole, Michelle and Natalie, and have six grandchildren.
I asked Mike what made him start getting involved in the community and giving so much of his time and energy to others.
"I became involved in P&C and sports activities when my daughters started school. I wanted them to feel totally supported as children, and give them something that I had never had. A big learning from my life experience was to never underestimate the value of children," says Mike.
Involvement in local politics and the wider community followed. Mike served as Deputy Mayor for two years and a councillor and Chairman of the Australia Day Management Committee for 10 years.  He also committed to other council initiatives such as its Audit Committee, Community Care Management Committee, Orange Blossom, Centenary of Federation Committee, and local Business Awards.
"I joined Castle Hill Rotary Club when you had to be invited in by another member, quite different to what it is today," Mike laughs.
Mike has held almost every position in the club during his 20 years, and has championed the much-loved and popular fundraising event, the Tour de Hills Bicycle Classic. This event has raised more than $700,000 for the community and the latest ride had more than 1,000 entrants.
"The tragedy last year has caused us to put the race on hold for now. It will need to be completely rethought and redesigned if we start it up again. Our inaugural Cross Country Challenge last month in Bella Vista Park Farm went really well for a first. It will get better every year!" smiles an optimistic Mike.
You may find it hard to believe that there is more to Mike than giving himself selflessly to his local community. His journey to Australia was as a child migrant, which led to his passionate involvement in the Child Migrant Trust (CMT).
Margaret Humphreys CBE, OAM is as a social worker from the Midlands town of Nottingham, England. She established the CMT to help former child migrants research their families.  The trust is a registered charity in England and Australia. Thousands of British children in the post-war period were deported to colonies including Australia, New Zealand, Canada and the former Rhodesia.
"You get to a point in your life where you seriously start to wonder where you really came from, and all you want is the truth," says Mike sadly.
"The movie Oranges & Sunshine came out in 2011 and was taken from a book on child migration produced by the trust. It is a really emotional movie that takes a long hard look at what we all went through as kids."
Mike's family encouraged him to contact Margaret Humphreys, and in just three months she had traced the whereabouts of his mother.
"Three months later mum passed away and I never got the chance to see her again. Me and Sue did go over there and meet my aunts and cousins and find out as much as we could about my family. We also have a few photos now and some small trinkets that belonged to her," says Mike.
Mike was guest speaker at a political event in Canberra focussed on child migrants, and was also a member of the committee managing the design of a migrant memorial wall at the National Maritime Museum in Sydney.
In 2014 Mike was awarded the Senior Citizen of the Year Award for his commitment to the Hills community.
I find it hard to imagine that one man has managed to do all these things whilst working as a builder and bringing up a family.
In between his community work he spends quality time with Sue, his three daughters and six grandchildren.
"We are a very close knit family and I cherish that. My circumstances have led me to always wanting to be there for my family," smiles this humble man.
"He is never around!" laughs Sue, shaking her head at Mike.
Through the dedication and commitment of Mike the Hills and the community at large is a much better place to live and learn.